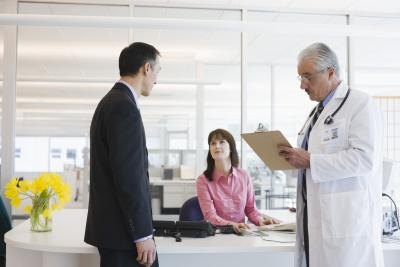 Medical receptionists work in hospitals, nursing homes, home health agencies, community health clinics and physicians' offices. They manage busy phones, use computers and send email. They maintain an organized work station. They receive and send faxes, keep files, take messages and make appointments. They sometimes perform medical coding and billing services. The average medical receptionist made $18.27 per hour in 2010, according to Indeed.
Function
The medical office receptionist liaises between clients and the medical team. Good people skills are necessary. A receptionist must maintain calm, friendly communications with patients, regardless of multiple ringing phones. She manages everything from calling in prescriptions to ordering patient tests.

Payscale reports that medical receptionists earn a base rate of $10.38 to $14.08 per hour in 2010. With overtime — a frequent occurrence for medical receptionists — the hourly rate ranges from $15.02 to $20.94. Medical assistants sometimes earn additional compensation from profit sharing and bonuses.

A medical receptionist with office management responsibilities earns more money. Payscale states that medical office managers earn up to about $22 per hour.
Geography
Medical receptionists earn the highest average rate in Stamford, Connecticut — from $13.76 to $18.20 per hour — in 2010, according to Payscale. Other high-paying cities for medical receptionists include Washington, D.C., Tacoma, Washington, and Seattle, Las Vegas, Minneapolis, Los Angeles, San Diego and Philadelphia.
Requirements
While no formal requirements exist for the medical receptionist, he may have experience as a certified nursing assistant. He can earn credentials such as the certified medical assistant (CMA) designation offered by the American Association of Medical Assistants (AAMA). High competition exists for entry-level medical receptionists. Designations help a new medical receptionist gain credibility and employer acceptance, according to the AAMA. Medical assistants with zero to two years' experience earn an average of $13.23 per hour, according to AAMA survey results. CMAs with 16 or more years' experience earn $17.50 per hour.
Potential
The U.S. Bureau of Labor Statistics (BLS) predicts strong job growth for medical receptionists. Receptionist positions are expected to grow by 15 percent from 2008 to 2018. The BLS reports a $12.20 median hourly wage for medical receptionists working in physicians' offices in the U.S. The highest 10 percent of medical receptionists earn $17.07 or more.
Considerations
Where a medical assistant works affects how much she earns, according to the BLS. More than 60 percent of medical assistants work in physicians' offices. Medical assistants working in hospitals earn higher hourly wages. Simply Hired reports the average medical assistant earns slightly less than $14 in the U.S. in 2010.